WE'RE OUT FOR A FEW SHOWS IN SPRING & SUMMER!

Hello fellowship of the Capa! We're busy writing and recording new stuff these days, which is why we're staying off the road for a while. Alas, we're letting ourselves off the leash for a few dates in the next months, because what's a summer without at least a few shows to play out there!? You can find us right here and already get some tickets while you're at it. We'll bring old and new stuff alike and maybe add in a surprise or two. One thing is for sure: It's gonna be fun as always. Hit us up on Facebook if you wanna be up-to-date as that's where we're pretty damn active all the time.

We miss you guys, see you out there in the next weeks and months!
Audiolith Shop / iTunes / Spotify

VISIT US ON TOUR, SAY HI, DANCE YOUR ASSES OFF AND GET IN CONTACT VIA THESE
CUTE LITTLE BUTTONS: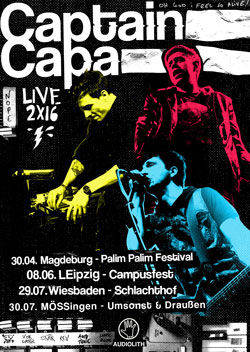 CAPTAIN CAPA ON TOUR:

17.06. Kiel | Kieler Woche
29.07. Wiesbaden | Schlachthof
30.07. Mössingen | Umsonst & Draussen
06.08. Bärwalder See | Cherry Beach Festival

BUY TICKETS

FOLLOW & MEET US HERE: